History
After the reunification of the two German states, the Max Planck Society took over the responsibility to create centres of excellent basic research on the state territory of the former GDR.
Architecture and Art
In 1994, architects were invited to compete to design and construct a new building to house both the Max Planck Institute and the DRFZ on the premises of the Charité Hospital Campus in Berlin.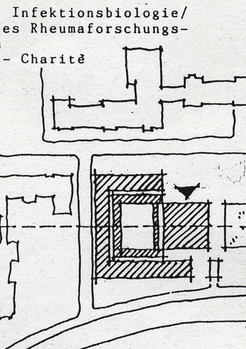 The planners and architects were faced with a challenging situation – the limited space of the property, the condition of the foundation soil and the surrounding historical campus buildings. This act of balance between the building's function as a state-of-the-art research institute, its aesthetic requirement to fit into the surrounding historical hospital campus, and the conditions of the building site was convincingly achieved by the architects Deubzer & König. With its modern facade of red cement bricks, the new building picks up elements of style and colour from the surrounding historical buildings and integrates harmoniously into the Charité Hospital campus setting.
After crossing a spacious fore-court, visitors are welcomed in the impressive and representative hall. In here, nothing of the busy work atmosphere can be felt, as the laboratories are in another section of the building complex that surrounds an inner courtyard. The laboratories comply with the high standards required for working with infectious pathogens and genetically modified organisms, and access to visitors is spatially and securely restricted. The concept of two building sections provides openness to a broad public and at the same time fulfils the safety requirements that have to be imposed on a research institute working with such hazardous pathogens like tuberculosis.
The entrance hall with its large open spaces, which were deliberately left vacant for versatile arrangements, can be used for staging a number of different types of events. Artists are among the regularly invited guests who enjoy using this spacious area for exhibitions and presentations. The changing presentations add to the aesthetical enrichment of the employees' daily work routine.
The "Heilsteine" by Karin Sander, a permanent installation of art, symbolizes from the artist's view the function of the research of the Institute to infectious diseases. (Bild 4) The artist scanned an emerald into a computer and used the compiled data to mill two identical "replicas" out of two aluminium blocks. Since the 12th century, and even today in alternative medicine, emeralds are believed to possess special healing powers, particularly in cases of rheumatism and infectious disease. Together with the enlargement of the sculpture and, hence, the enhancement of her visionary abilities, the artist underlines the goals of the Institute, the DRFZ, and the Charité Hospital in terms of discovering the causes and the possibilities of alleviation from infectious and rheumatic diseases.