Polyvalent lipid binding as determinant for viral infection | New Voices in Infection Biology
Datum:

14.04.2021

Uhrzeit:

16:00

Vortragende(r):

Helge Ewers

FU Berlin

Ort:

Zoom video conference

Gastgeber:

Olivia Majer

Kontakt:

vseminars@mpiib-berlin.mpg.de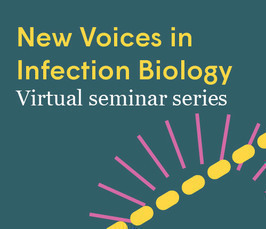 If you are interested in joining the seminar, please contact: vseminars@mpiib-berlin.mpg.de
Once registered, you will receive a zoom conference link 30 mins before the talk starts - please sign in using your full name.
Talk abstract:
SV40 is a non-enveloped DNA virus from the polyomavirus family. Polyomaviridae capsids are assembled from 72 pentameric subunits that bear 5 binding sites each, in the case of SV40 to the glycolipid GM1. It is unclear, how a virion binding to an outer membrane lipid can mediate its uptake into the cell and in electron microscopy indeed SV40 was found to be internalised in tight-fitting vesicles, suggesting direct binding to membrane lipids instead of distance-mediated transmembrane proteins. We asked, how the interaction of SV40 with lipids can lead to endocytosis and infection and how the glycolipids can mediate membrane binding and endocytosis. We found that Sv40 visions bind to several GM1 molecule sin the membrane and this binding leads to lateral clustering of several visions and membrane deformation leading to endocytosis. Both membrane clustering and internalisation were dependent on the acyl-chains of the glycolipid. I will discuss further work on the nanoscopic virus-membrane interaction.
We found that a structure-function relationship in a lipid determines the outcome of SV40 infection and could show that multivalent binding controls the mode of membrane interaction of SV40.